Stressed out? Overworked? Hurting?
When was the last time you did something great for yourself?
Bringing you over three decades of professional experience, and 2000+ hours of extensive training in several healing modalities ~ Amma, Swedish, Acupressure, Shiatsu, Deep Tissue, Sports Massage, Reiki, Rebirthing, Polarity, Trigger and Active Release, Thai, Tantra and Taoist Massage, Shamanic Journeying, Aromatherapy, and Esoteric Energy Healing.
I have had the privilege of working on over twenty thousand bodies ~ from overworked desk-bound professionals to professional athletes. Allow me to get my hands on you and help you feel your best.
Visit my beautiful healing sanctuary at the beach filled with candles, tranquil music, and a luxuriously padded massage table fitted with soft flannel sheets.
Using only the highest quality organic lotions and oils and herb-scented hot packs to soothe your tight, sore muscles, you can rest assured that luxurious towels and a strong, hot shower are always available.
Treat yourself to an interlude of peace and deep relaxation.
RATES
120 / 1 hour
180 / 1.5 hours
STRICTLY NON-SEXUAL
Email: therapeuticmassageatthebeach@gmail.com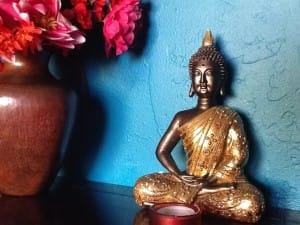 "When you're ready for the greatest massage of your life go see Jaeleen. I'm a massage junkie ~ I've had massage all over the world, and she is truly the best I have ever found." ~ S
"I'm not sure what I enjoyed most – that much needed, perfectly executed, beautifully intuitive massage you so artfully delivered … or the delightful, thought-provoking, connected conversation that followed. I could have stayed all evening … Thanks so much." ~ B
STRICTLY NON-SEXUAL
"This was the best massage I've ever received, bar none. World class." ~ K
"Seriously one the best CMT massages you'll get in the Monterey Bay area. I've probably had 30 different massage therapists over the years, and Jaeleen is at the TOP of my list. I nearly fall asleep each time. This is massage for those that expect the best." ~ D.
Email: therapeuticmassageatthebeach@gmail.com
jaeleen bennis massage santa cruz, jaeleen bennis massage capitola, jaeleen bennis cmt, jaeleen massage santa cruz, jaeleen massage capitola, massage santa cruz, mEmasagEmaile san jose, massage monterey, therapeutic massage santa cruz, therapeutic massage capitola, therapeutic massage jaeleen bennis