The Milking Table in Monterey, Carmel, Pebble Beach, Pacific Grove, Seaside, Marina is available by request with all BDSM, Bondassage, and Elysium sessions.
Slow, sexy, indulgent
A milking table is much like a traditional massage table, except it has been customized for the comfort and pleasure of a man — no more wiggling and shifting to avoid crushing your most delicate parts.
Experience erotic sensations you've never felt before
The design of a milking table allows for blood to flow more freely to your nether regions with the natural assistance of gravity. Along with this increase in blood flow comes more sensitivity — and who wouldn't want that?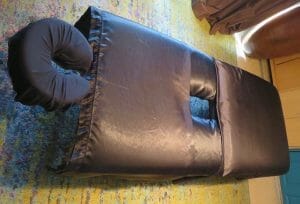 My table is custom designed with maximum accessibility to your entire body while you are face down, thereby allowing me to be more creative and interactive with you.

Surrender to a new form of pleasure that will catapult all of your senses into an exquisite escape.
You've never felt this aroused and sensitized, ever.
Available by request with all BDSM, Bondassage, and Elysium sessions.
Booking instructions HERE
RATES:
1 hour ~ 800
1.5 hours ~ 1000
ESTABLISHED CLIENTS:
If I've had the pleasure of meeting with you in the past, I'd love to play with you again!
I am honored and deeply grateful to have your continued patronage, and I offer grandfathered rates to clients who have seen me in the last five years.
Please contact me in the usual manner.